Projects: - These projects need funding or donations.

RSI Camp Stations Grants
$50k/yearly
Our group is actively helping scouting councils restart their radio STEM programs. Our goal is to get all councils in the BSA and GSUSA to have an active Radio Scouting STEM program. Many were discontinued in the 90's with the rise of cellphones, others are just non-existent. Our program has been created to be a model STEM for other councils to copy, with materials, flyers, banners, lesson plans and assistance in getting their programs going. After 5 years we've learned what works and what kids like. While we can help get ham scouters and clubs together in their areas to restart their program, each still needs starter funds to get their initial equipment and their camp-stations ready. If we had a grant system, we could then focus on getting 2-5 council camps restarted each year, and as funds increase we could build that number yearly. - If every council had a Radio Scouting program it would cover over 2 million youth. Even with a 1% licensure rate, from initial STEM demonstration counts, that is a lot of new youth entering amateur radio.

Unlike 99% of grey-hair ARRL clubs and one-time projects/grants trying to reach out to youth (5-21) we have millions of youth in our pool, we just need the financial support to get the program in each of their areas. RS programs are truly non-profit education, we can't charge kids for classes, we can't sell off SK gear for income as they won't be SK for 70 years. We're a charity inside the ham community where we have to beg clubs for equipment and many of our volunteers foot the bill for events and equipment. Yet in 10-20 years it's our scouting youth that will grow up to become 30% of active hams. -- Ask your club members who was in scouts, and 30% will raise their hand. Then ask how many took the Radio Merit Badge (since 1918) and many haven't, we're working to fix that but need your help. KN4MDJ




Camp Station
$25k Camp Station - wB4SA Camp LaNoChe - Central Florida
$25k Camp Station - kB5SA Kinsey Scout Reservation - Northwest Louisiana
$25k Camp Station - N4RSI Tampa Bay - Western Florida
$25k Camp Station - Crestview Council - Panhandle Florida
$25k Camp Station - DX1MC Manila Council Amateur Radio Club - Philippines
A camp club station is a radio station located at a scout camp or other scouting facility that is available for use by scouts and scout leaders who are interested in radio communication. The station is typically equipped with radios, antennas, and other equipment necessary for communication, and can be used for a variety of purposes such as training, educational activities, or simply for fun.

A camp club station can be a valuable resource for scouts who are interested in learning about radio communication, as it provides them with an opportunity to practice their skills and develop their knowledge of the hobby. It can also be used for special events or contests, where scouts can compete with other scouting groups or amateur radio enthusiasts.

The camp club station is typically managed by a group of adult leaders or volunteers who have experience in radio communication and are responsible for ensuring that the station is operated safely and in compliance with relevant laws and regulations. These volunteers may also provide training and educational activities for scouts who are interested in learning more about radio communication.

A camp club station can be a fun and educational addition to any scouting facility, providing scouts with a unique opportunity to explore the world of radio communication and develop new skills and interests.




Scout HamBox
$25k R&D (or delegate to another group to design and build)
We've been working on a our Scout HamBox for about 4 years now. Currently when a scout gets licensed we give them a Starter HT. Once they upgrade to general there are few low cost HF options, short of QRP (not a good starter radio for scouts expecting easy contacts). Our goal is to create a 50 watt, all band (40/20/10/2m/70cm) ssb/fm transmitter with dual SDR receivers (for waterfall, audio reception and ADSB). We've been experimenting at our own cost and volunteers time and resources on the PiTX and other technologies for transmitting, even compared several commerical QRP radios but just haven't found a good fit. Our goal is to have a wifi tablet front-end and an ammocan type transmitter that can be left near a tree with a wire antennea thrown over a branch. This offers a level of lightning protection for the scout in a tent and makes it less bulky to use the tablet. Design goal is a whole package less than $1k including the main unit, tablet and multi band antennea. This is a cost I believe we could get local clubs to absorb to lease/lend these units to scouts.




FL AREDN network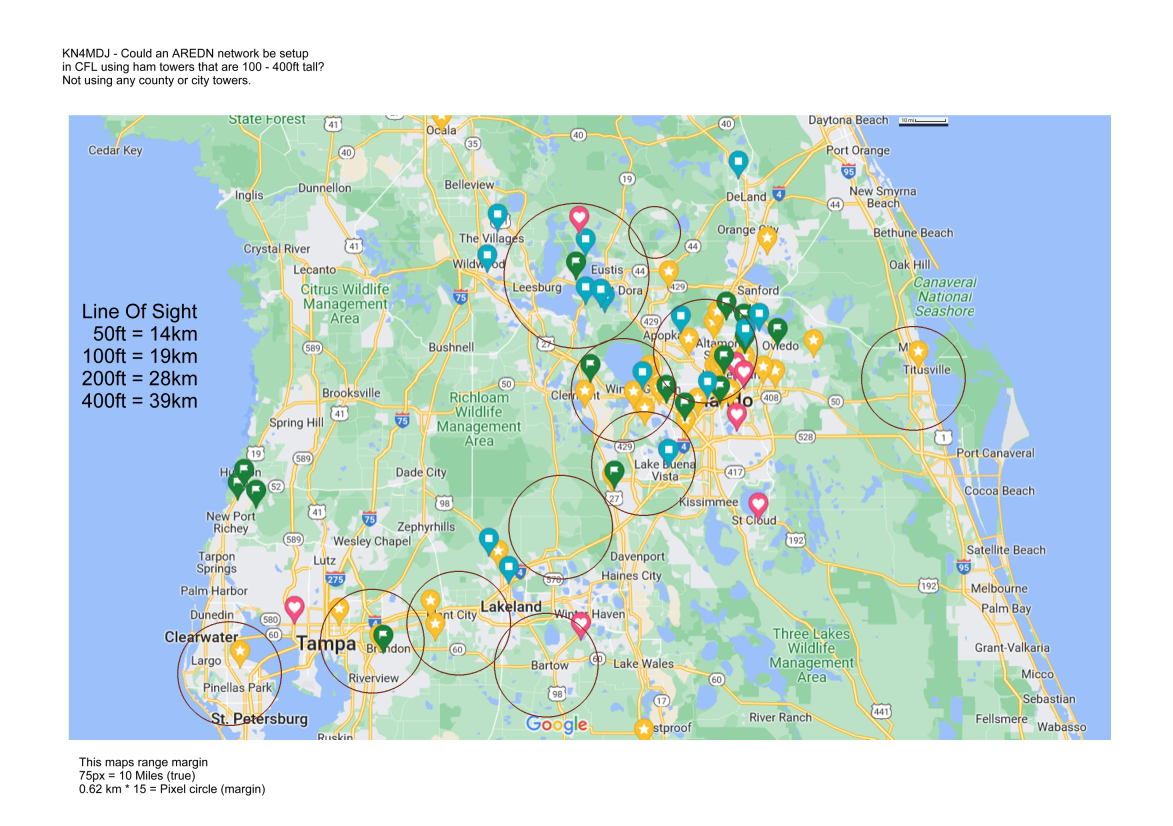 $150k This is not on our priority list, more of a wish item.
Setup a state-wide AREDN (Amateur Radio Emergency Data Network) communication system that is designed to provide a reliable and resilient means of communication for emergency responders and other organizations in the event of a disaster or other emergency situation using existing 100+ft and higher ham towers through-out the state.

The network is typically built using a combination of high-speed data links and radio repeaters, which are interconnected to create a robust and scalable network. The backbone of the network is often based on commercial-grade equipment, such as routers and switches, that are designed to operate in harsh environments and provide high levels of reliability and redundancy.

At the edge of the network, amateur radio operators use specialized software and hardware to connect to the network, allowing them to communicate with other operators across the state using voice, data, and video. This technology allows emergency responders to quickly and efficiently share critical information, such as patient data, maps, and status updates, even in areas where traditional communication methods may be unavailable or unreliable.

The state-wide AREDN network is typically managed by a team of experienced amateur radio operators who are responsible for maintaining the network infrastructure, ensuring that the network is secure and compliant with relevant laws and regulations, and providing training and support to users of the network.

A state-wide AREDN network is an essential tool for emergency responders and other organizations that need to communicate quickly and effectively during a crisis. By providing a reliable and resilient means of communication, the network can help save lives and mitigate the impact of disasters and other emergency situations.




Cube Repeater Project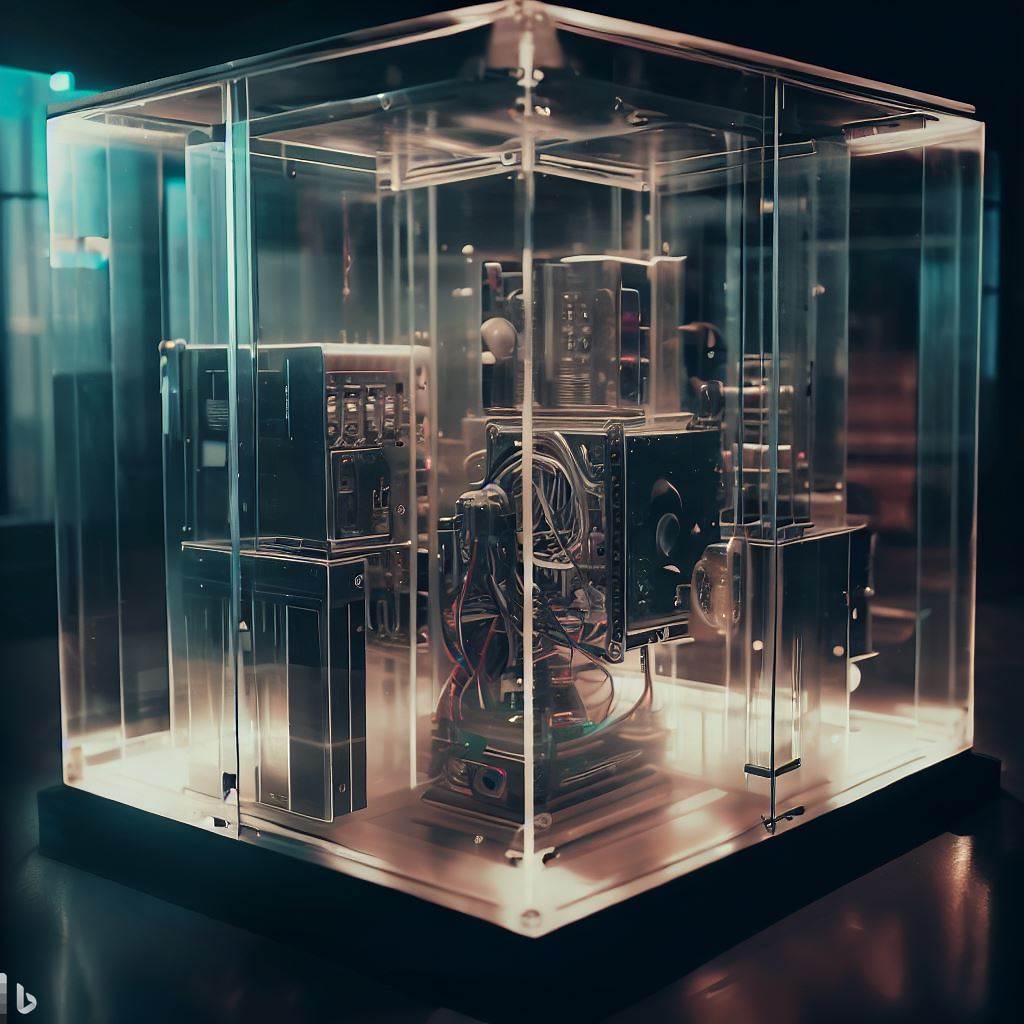 $5k/each (x ~400 councils), $40/monthly/each
The Cube Repeater is an interconnected repeater network, nationwide, between scouting councils. It would consist of a network of UHF amateur radio repeaters & GMRS repeaters that are linked together by a cellular backbone to provide a seamless communication system for scouting groups across the country. (AT&T is interested in serving as the backbone.)

Each scouting council would have one or more repeater sites that are connected to the network via the internet or other communication channels (AREDN if available). These sites would be equipped with radios, antennas, and other equipment necessary for communication, and would be installed and maintained by local amateur radio clubs. The interconnected repeater network would allow scouting groups to communicate with each other over long distances, regardless of their location. For example, a scout group in California could use the network to communicate with a scout group in New York, simply by connecting to their local repeater and transmitting their message. This would be particularly useful in emergency situations or during large scouting events where multiple groups are operating in different locations.

The network would be managed by a team of skilled and experienced amateur radio operators who are responsible for ensuring that the system is operating smoothly and in compliance with relevant laws and regulations. They would also be responsible for providing training and support to scouts who are interested in learning about radio communication and participating in the network.

The interconnected repeater network would be a valuable resource for scouting groups across the country, providing them with a reliable and efficient means of communication and helping to build a stronger and more connected scouting community.

Each hour the network would reconfigure so that different councils are link together, so instead of one huge party line, like the East-Coast reflector, this network would be random councils that are linked for the hour. By offering both ham (uhf analog/dmr) & GMRS, it enables scouts that have either license to communicate to the other council on the respective mode. (the two modes are not bridged)




ADA - EMCOM DEMO TRAILER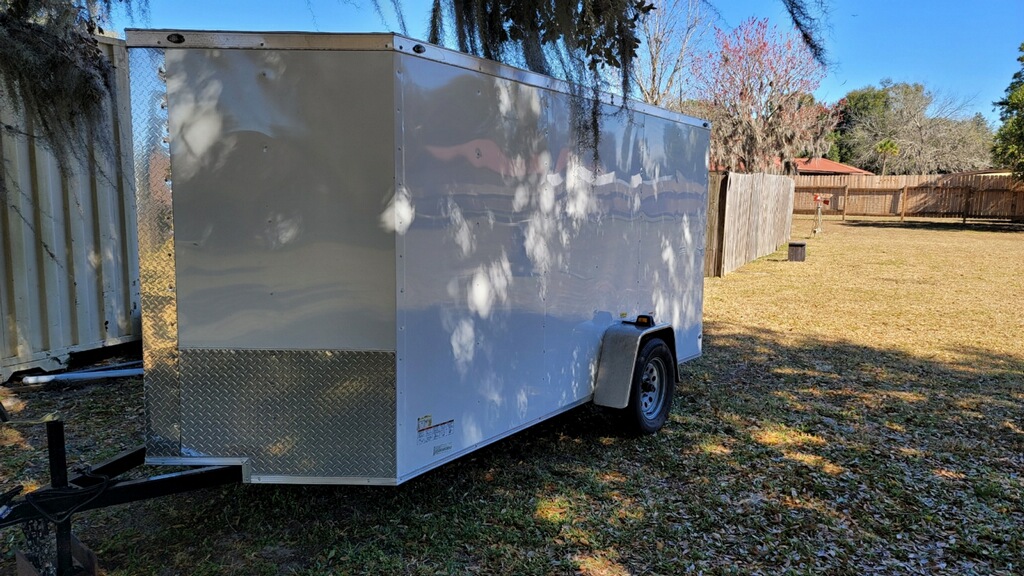 $28k
This ADA accessible emcom demonstration trailer will help expand our program and make it more mobile for troop/youth group locations and assist special needs scouts with mobility issues. We currently borrow a unit from a local club however it can't accomodate a wheelchair. While it's purpose is for youth education and use, it can still be used by county ARES if needed during a disaster.

We offer the BSA Radio Merit badge (BSA), ARRL Wireless award (GSUSA) and assist youth with FCC licensure. With quarterly events we expose about 10,000 youth to STEM and Amateur radio demonstrations per year.

$5k Trailer, $2k Intervertor(9kw) Generator, $10k assorted radios, equipment and station setup. $4k Interior construction, walls, insulation, $5k Air conditioning. $2k solar panels & buffer.




Dedicated STEM and Administrative building
~$2 million, Camp La-No-Che, Paisley, FL
We believe a new building offering a dedicated space for STEM activities and programming, and allowing scouts to explore and learn about science, technology, engineering, and math in a hands-on and interactive environment. The multi-program closets would provide a secure and organized storage space for equipment and supplies, making it easy for scouts to access the materials they need for various activities and experiments.

The multipurpose room would serve as a flexible and adaptable space for a variety of uses, including meetings, training sessions, group activities, and events. It could be used for everything from large group activities like camping and hiking workshops, to smaller meetings and classes focused on specific topics or skills.

The administrative space would also provide a centralized location for the management and coordination of scouting activities, making it easier to plan and organize events, activities, and volunteer efforts. This space could also be used for training and development programs for adult leaders and volunteers, helping to build a strong and capable scouting community.

In addition to these benefits, a new STEM and administrative building would also provide a sense of pride and ownership for scouting groups, creating a physical space that represents their commitment to excellence in scouting and STEM education. It would also attract new members and volunteers to scouting, as it would be seen as a modern and innovative organization that values education and community engagement.

Finally, a new STEM and administrative building would be a valuable asset for scouting groups, providing them with a dedicated space for learning, collaboration, and community building, while also helping to attract and retain members and volunteers.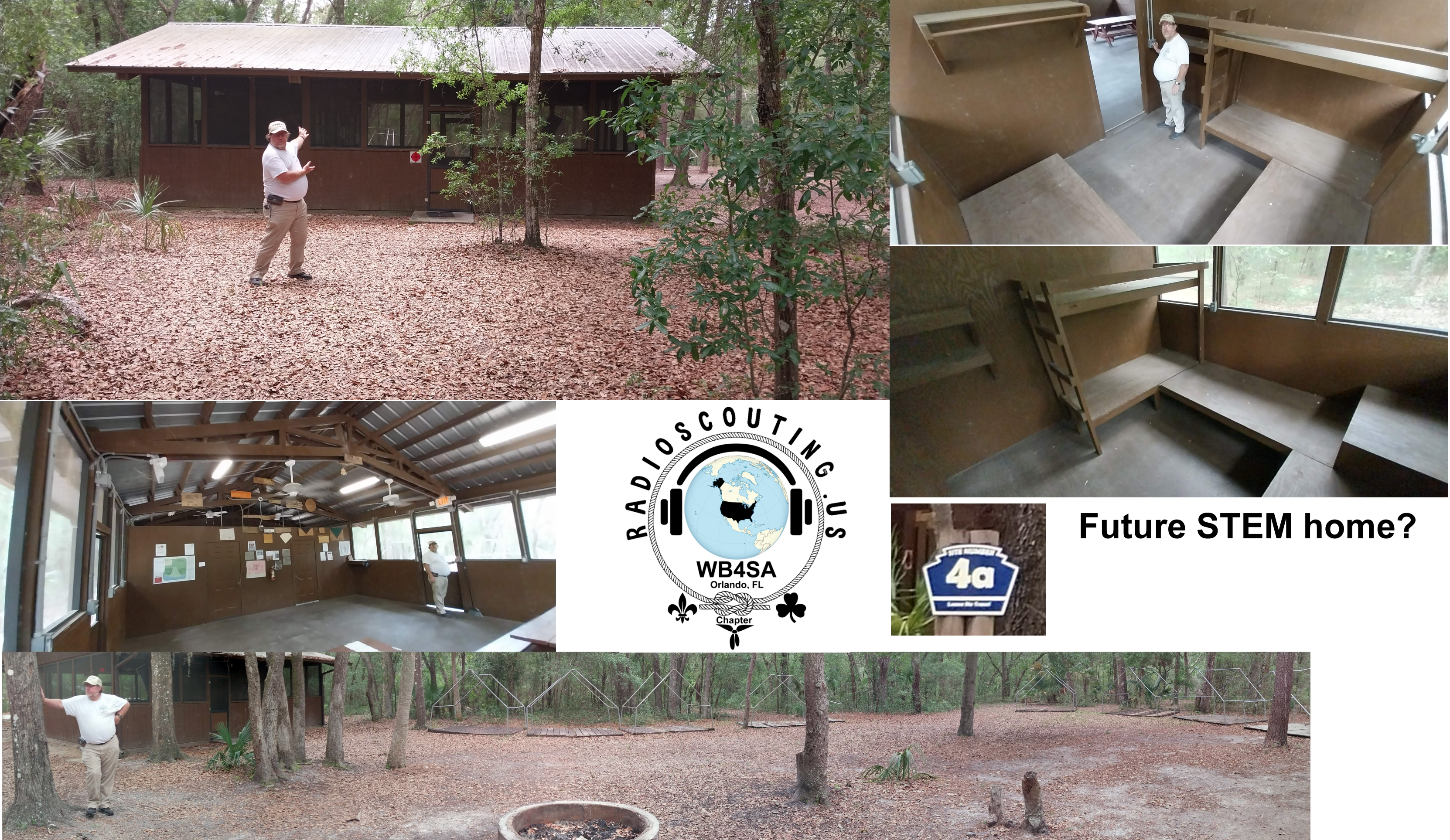 Campsite Renovation/Conversion to a STEaM Classroom and STEaM Area
~$100k, Camp La-No-Che, Paisley, FL
We're in early discussions, as a steping stone to the above, to convert a small campsite area in to a STEM area. The existing activity shelter would be converted to a dedicated classroom with a ham-shack and storage room, also room for a 200ft tower to cover the entire camp and upgrade their existing staff repeater range. Funding-wise this would be the fastest option and we could move forward this year. Ref: Dedicated STEM/Admin Building




FREE HT FOR YOUTH:
$2-10k/yearly


We've offered a free HT to newly licensed scouts since our program started, usually the Baefeng UV-5r or UV-82. This year we're expanding our program to offer it nationally. We've teamed up with Gigaparts to offer the QRZ-1 Explorer Radio, expanding the New Ham Program for all scouts in the US. Scouts should contact us at RadioScoutingUS@RadioScouting.US with their newly issued callsign.
The fine print:
WB4SA Radio Scouting HT Terms and Conditions

This program is for US-licensed Amateur radio operators, youth involved in scouting under age 18.

Applications must be submitted within 6 months of the license issuance date.

Applicants may be required to provide a government-issued photo or school ID. This information is not shared or exchanged with any party and is used only to validate eligibility under this program.

Once the application is approved, the applicant will have 30 days to use their unique coupon code at Gigaparts.com.

All New Ham Welcome Packages will be shipped by Gigaparts.

You may be charged shipping costs, while the radio is itself will be free.

You may purchase additional accessories at your own cost in the order.

Only one WB4SA Radio Scouting HT per operator will be issued.

The contents of the New Ham Jumpstart Package are subject to change at any time.

Available as long as supplies last.

This program is funded by WB4SA Radio Scouting, Inc. and dependant on donations to cover the costs.

Additional shipping charges may apply when shipped outside of the contiguous 48 states.