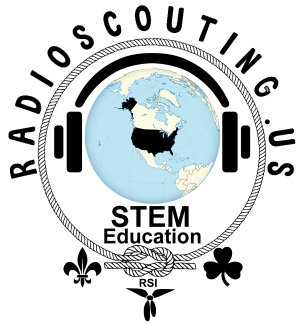 ---
All our activities are free of charge, please donate today to help support our program.
---


We're still working on getting funding for our STEM center at Camp LaNoChe. We've applied for several grants but still need a lot more help. So I'm creating a fund-raiser that can be easily shared among the ham community. There are very few youth STEM programs with such a focus on radio, it's hoped that hams will help keep their hobby alive while we teach it to the next generation. In Sept and October this year we're preparing to display our program to over 12,000 scouts, in three locations, during 6 weekends. By the end of 2024 we'll be presenting before 40,000 youth each year in several locations across the US. https://gofund.me/91ea7369
Ken Lyons, KN4MDJ


---


Some WB4SA Participant Numbers
Pictures of events
2018: Oct Jota, our first jota, 1,010 participants
2019: May Alien Invasion (2,000),
June International Cuboree (300 participants),
Dec Jubilee'19 (300 participants)
Oct 4x weekends (7,800 participants)
Oct Jota (1,503 participants)
Nov Liger Growl (553)
2020: Feb HamCation Radio Merit Badge (17)
Feb Radio Merit Badge overflow class (19)
--covid shutdown--
Oct Jota (766 participants) [Reduced capacity due to Covid19]
Oct 2x weekends (766 + 750 participants)
Oct Virtual Merit Badge (342 earned)
Nov Liger Growl (450)
2021: Feb HamCation (Virtual Youth Forum)
April Cub Scout Spring-A-Palooza "Westward Ho!" (473 participants)
Oct 5x weekends Cub Halloween (3,915 participants)
Oct Jota (1,435 participants)
Nov Liger Growl (550)
Nov Cub Pack 250 Eustis, Morse code intro (27 participants)
2022: Feb Hamcation Radio Merit Badge (14 earned)
April STEAM Wars (200+ participants)
May 100th Council Centennial Camporee 2022 (3,372 participants)
Oct 6x weekends Cub Halloween (5,983 participants)
[Hurricane Ian canceled a weekend, reducing counts]
Oct Jota (1,253 participants)


2023: Feb Hamcation Radio Merit Badge (25 scheduled)
Feb Radio Merit Badge overflow class (5 scheduled to-date)
March Career STEM
Over 30,000 participants since 2018


Amateur radio provides an exciting and engaging introduction to a wide range of technologies with a STEM foundation. We provide the fun of communicating with other Scouts, and the magic of long distance communication, even in remote areas without cell service. We can help Scouts and leaders with amateur radio education, Scout advancement, and integrate amateur radio into scouting activities.

Radio Scouting, Inc. is a 501c3 corporation now offering "chapter clubs", with the first being it's own wB4SA club covering the Orlando and Central Florida area. Our goal is to assist groups of hams, youth and scouters in other areas with forming a small area club, getting a callsign and operating as a chapter club without the headache of starting an new independent org, state & federal reports and 501c3 paperwork.

For BSA Camp Stations see https://k2bsa.net/camp-station-resource/.

Our organization was originally focused on promoting one youth organization but we've recently stepped-back so that we could offer this program to several youth groups in a neutral fashion. All our lesson plans, curriculum, videos, activity flyers, banners are being remade in a generic non-program manner. It's hoped that our fun games and materials will assist millions of youth across the country to ensure everyone has the oppertunity to learn about radio.

If you are paid to do Scouting, you are called a Professional.
If you are not paid to do Scouting, you are called a Volunteer.
If you pay to do Scouting, you are called... A Scouter.
...It's just an hour a week...per scout.


---
Chapters of RSI (We provide materials, flyers and 501c3 fiscal sponsorship and support)


WB4SA Central Florida


kB5SA Northwest Louisiana Radio Scouting - Serving the Norwela council area


N4RSI Radio Scouting Tampa Bay
W1PTG Pilipinas Testing Group
DX1MC Manila Council Amateur Radio Club
www.RadioScouting.PH
---
---
---
These are all the known BSA RS Programs that we've found.

---
2022 - Oct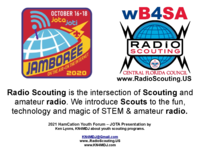 JOTA Presentation - This is the JOTA/Radio Scouting club presentation, in PDF.
---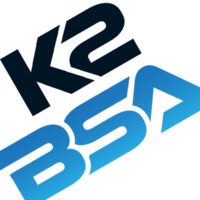 www.k2bsa.net
BSA National Council, K2BSA Amateur Radio Association
Provides support for national jamborees and supports council programs. It's the club station at the National Headquarters of the Boy Scouts of America. Promotes and sponsors the BSA national JOTA program.
2019 Pres: Jim Wilson, K5ND
2020 Pres: Bill Stearns, NE4RD, Montana Council

JOTA Station Rules and Info
---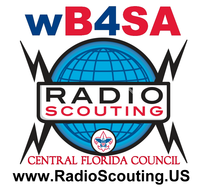 www.RadioScouting.US/cfc
Central Florida Council, wB4SA (S4-83) Radio Scouting [near Orlando, FL]
Ken Lyons, KN4MDJ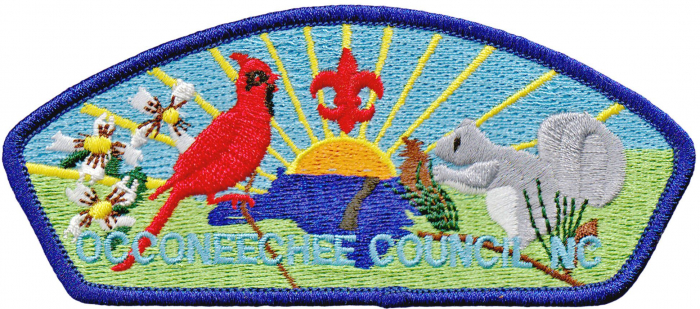 Occoneechee Council Radio Club [near Raleigh, NC]

Chris Cancilla - KN4TRE, W4CEC.com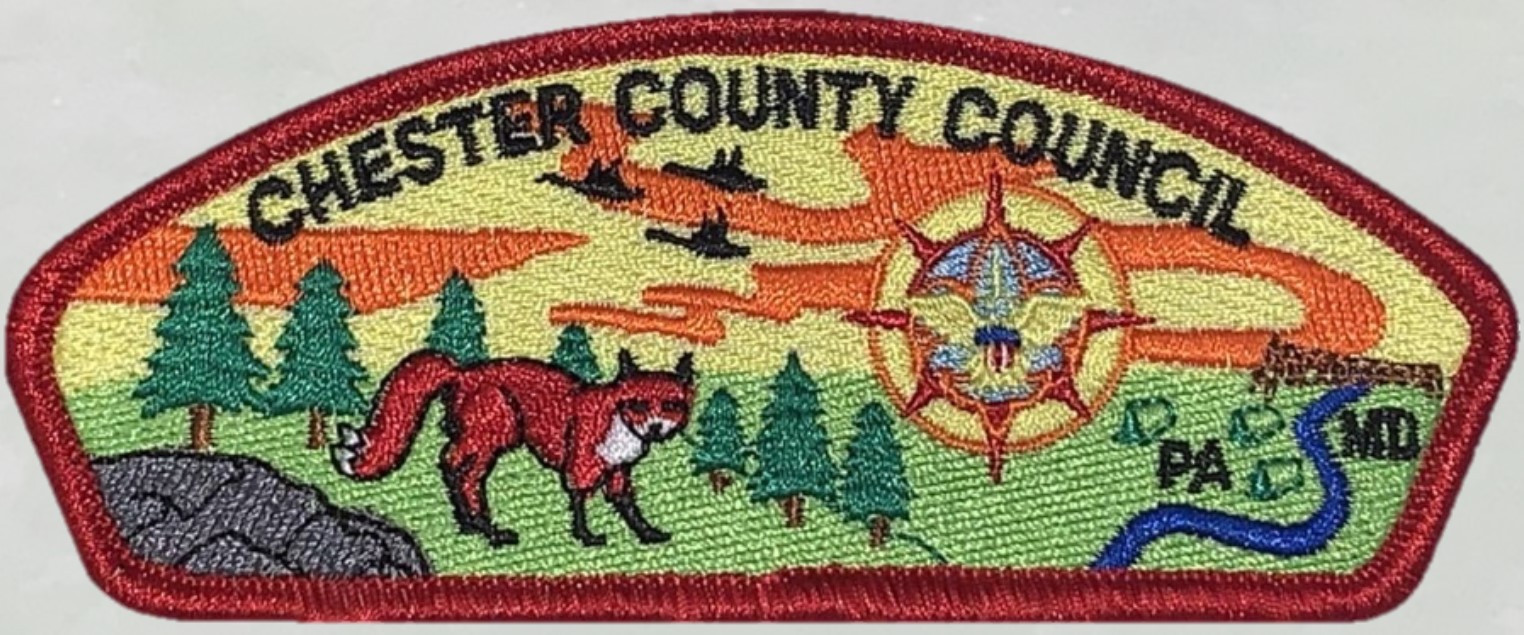 Chester County Council K2BSA/3 [near Philadelphia, PA]

BSA Camp Horseshoe Radio Station
Walt Beattie, AA3WB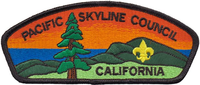 Pacific Skyline Council (WR3-31) - Radio Scouting Program [near Foster City, CA]
Walter Underwood, K6WRU, Radio Scouting Chair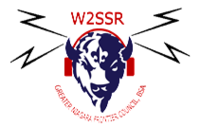 Greater Niagara Frontier Council Radio Scouting Committee W2SSR [near Buffalo, NY]
Donald A Sonnefeld, KD2FIL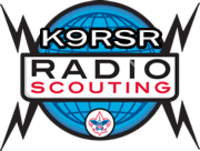 Rainbow Council Radio Scouting, K9RSR (C7-702) [near Chicago, IL]
Brian McDaniel, N4AE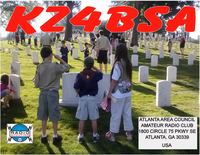 Atlanta Area Council Amateur Radio Club, KZ4BSA (S9-92) [near Atlanta, GA]
Elden Morris, N1MN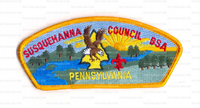 Susquehanna Council, KK3BSA (N4–533) [near Millmont, PA]
Tim Gelvin, K3TEG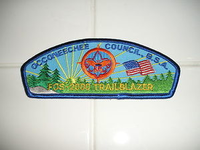 Occoneechee Amateur Radio Society, Raleigh, NC (S7-421) [near Raleigh, NC]
Chris Cancilla, W4CEC, Occoneechee Council



Misc:
David H Goldenberg, W0DHG [near Los Angeles, CA]
Bill Stearns, NE4RD, Montana Council [near Great Falls, MT]




Co-Operative with www.Radio-Scouting.De (Scouting in Germany)
For Trans-Atlantic events between councils, jambos and other large events.


Special thanks to Michael KE8AQW for this list:
KK4BSA -GA
K3BSA - PA
KT8BSA- OH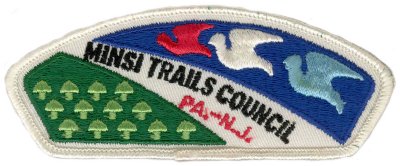 Minsi Trails Council, Camp Minsi, PA, Radio Club 940
contact@radio940.org

W3NFZ - PA - Camp Minsi
KB0BSA - CO
KN0BSA - NE
KX4BSA - MD (venture crew)
KB3BSA - PA (venture crew)
W1BSA - MA
KD6BSA - CA
K0BSA - MN (explorers)
W9BSA - IL (trustee WB9JKZ)
WX4BSA - GA
WS5BSA - OK (troop)
KC3BSA - PA (venture crew)
KB2BSA - NY (venture crew)
K6BSA - CA (troop)
WD9BSA - IN
WN0BSA - IA (troop)
KA3BSA -PA (troop)
K7BSA - CO
WX0BSA - MO
KG5BSA - TX (troop)
KF4BSA - NC
KM0BSA - MO
WA5BSA - OK (troop)
KE8BSA - TX Longhorn council
KZ6BSA - CA
W3BSA - VA (venture crew)
KC4BSA - TN (troop)
KW9BSA - TX (troop)
KA9BSA - IL (troop)
K5BSA - TX
KT5BSA - CA (venture crew)
KA2BSA - NY (troop)
WS8BSA - OH
WB6BSA - CA
KH6BSA - HI
WR4BSA - FL (troop)
KP4BSA - PR
WA9BSA - IL (JOTA call)
WA1BSA - CT
WD8BSA - OH (Camp)
WV8BSA - WV (Summit Bechtel club)
N8BSA - CA (Cahuenga District)
WA2BSA - NY (troop)
KQ1BSA - CT (troop)
KA6BSA - CA
WB5BSA - OK (troop)
KB1BSA - CT (Camp)
WE6BSA - OH (troop)
W6BSA - CA (Yolo District)
W7BSA - AZ (explorer)
KT4BSA - NC
KG9BSA - TX (troop)
WB8BSA - MI
KZ2BSA - NY
KW8BSA - OH (expired)
KE3BSA - PA (Camp)
WB9BSA - WI (troop)
LU9BSA - Argentina (International scouts)
KZ4BSA - GA
KD1BSA - NH (troop)
KG6BSA - CA (venture crew)
WW0BSA - NE (Wagon Wheel District)
KA1BSA - RI
K8BSA - OH (troop)
K1BSA - ME (Camp)
KM6BSA - CA (troop)
KB6BSA - CA (troop)
KO6BSA - CA
KX5BSA - TX (Camp)
WA7BSA - WA
WN7BSA - AZ
KJ7BSA - AZ
WZ6BSA - CA (expired)
WS5BSA - OK (troop)
WA0BSA - ND (troop)
WX8BSA - WV (troop)
KE4BSA - TN (troop)
KY4BSA - KY
W0BSA - CO (Camp)
KK3BSA - PA (Camp)
WN4BSA - SC (Camp)
WJ4BSA - TN (troop)
HL9BSA - South Korea (BSA international)
K4BOY - FL (Camp)
KB0SA - CO (troop)
KB1LRG - RI
KB1PAL - MA (venture crew)
KC2LYM - NY (troop)
KC3AFB - PA
KG6BSA - CA (venture crew)
KT4VC - TN (venture crew)
N5CJR - TX (Camp)
W1CSQ - MA (Camp)
WA2OYR - NY (explorer)
WB5BSA - OK (troop)
WH6DIN - HI (troop)

N9BSA IIRC is a sea scout ship in Illinois


If you have a suggestion or information to add please contact Ken Lyons, KN4MDJ@gmail.com
Last update: 19 Sept 2022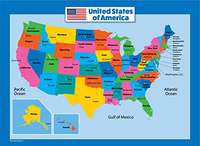 Radio Scouting Council Programs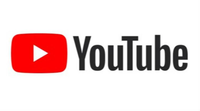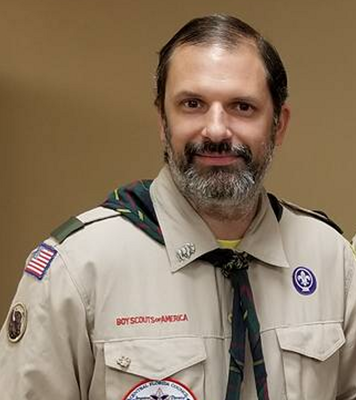 Ken Lyons, KN4MDJ
ARRL Southeastern Division
Assistant Division Director for Radio Scouting
View our QRZ




Free radio for scouting youth!